The Ultimate Sales Machine
by Chet Holmes, Our Action

CLASS

Summary
According to The Ultimate Sales Machine by Chet Holmes, there are two things that are required if you want to have success in business and in sales.
The first key is what he calls "pigheaded discipline."
The second key is to focus on mastery. Doing 12 things 4,000 times will generate far better results than doing 4,000 different things.
1. Time Management Secrets of Billionaires
This section is all about maximising your productivity. As a leader, there are endless demands on your time. So finding a system so that you maximise your impact per hour is key.
There are three things you can do to accomplish this:
First, identify the most important impact areas of your company. That might include inside sales, outside sales, marketing, HR, special projects, etc. You get the idea.
Second, set a meeting for each of those areas every single week, and demand that any issues that are not "hair-on-fire" emergencies get dealt with at that weekly meeting.
Third, make sure that every meeting has a tightly controlled agenda that addresses all of the major issues that need to get resolved.
2. Institute Higher Standards and Regular Training
If you want to reprogram your organisation to run like a finely tuned machine training needs to be a top priority. As an article by the Harvard Business Review points out, only 10 percent of the population has what's called "the learning mindset." The other 90 percent? We need to work hard to save them from themselves. We do that through deliberate and constant training. Without it, you'll ultimately end up addressing the same issues and problems over and over again. Instead, by training the same things over and over again, you'll start to get the behaviours you are looking for, which will lead you to success.
There are plenty of ways you can deliver training but involving people in either workshop type training where they work on real issues, or case studies (similar to how MBAs are trained at the Harvard Business School), is the most effective format.
3. Executing Effective Meetings
Building on the last section, the best use of executive meetings is to hold workshops where there is a laser-like focus on solving just one small part of the business. The end result of holding these meetings on a regular basis is that you'll have a bias towards what Holmes calls the "three Ps" – planning, procedures and policies. Why? Because rather than just sitting around and discussing issues endlessly, a workshop by its very nature demands that work get done and potential solutions get generated. What's the right cadence for these meetings? Holmes suggests that once per week for each important area in the company.
4. Becoming a Brilliant Strategist
The subtitle to this section of the book is "how to get up to nine times more impact from every move you make." Holmes tells us that we need to understand the difference between strategies and tactics. He defines them like this:

A brilliant strategist is able to combine tactics together to form a strategy with the long-term goals of the company in mind. The goal is to achieve as many strategic objectives as possible with each tactic.
One of the most powerful tactics you can employ in any business is education-based marketing. Why? Because it allows you to speak directly to the people who are in the market for your products and services, today. But it also lets you talk to the people who will be in the market for your products and services tomorrow.
5. Hiring Superstars
If you want to build the Ultimate Sales Machine, one of the key pieces of the puzzle is to understand the personality profile of top producers. Superstars are those you put in a bad situation with poor tools, no training and bad resources and still, within a few months, they begin to outperform your best people or build your company in ways you never dreamed possible. Hiring someone like this is about understanding the personality characteristics that fit the job for which you are hiring and having the tools to identify the candidates who possess those characteristics.
The method Holmes suggests in interviewing candidates might seem barbaric to HR executives, but it seems like it would work.
First, a screening call is conducted, which would go something like this:
You: Hi Bill, we've had a lot of response to our ad, tell me why we would want to interview you.
Bill: Well, let's see. I really like people. I'm a natural bonder and if I believe in something, I think I can really sell it.
You: Ah. I'm not really hearing top producer.
Bill: You're not?
You: Nope.
Bill: Well, I guess you would know.
You: I do.
Bill: OK. Well. Thanks for your time. Bye.
This is a person who would typically impress you in a traditional interview setting, but would not be successful in the field where they'll face rejection day in and day out.
Here's how the conversation might go with a top producer instead:
You: I'm not really hearing top producer.
Top Producer: Well, what do you think makes a top producer? (Note that the candidate begins to sell. The person can't help it. It's his or her nature.)
You: Well, it's a certain type of trait that I'm not hearing in you.
Top Producer: That's funny because in my last job I was the new guy and had never sold grommets before, but within a few months I was catching up to salespeople who had been there for eight years.
This type of person will become MORE effective when a prospect tries to reject them. Those are the people you are looking for.  Just remember that after you hire top producers that you need to create a performance-based relationship. Reward them lavishly and compliment them for exceeding your challenges, and you'll have a top producer who stays for a long time.
6. The High Art of Getting the Best Buyers
As Holmes points out, the best buyers buy more, and faster, and more often than everybody else. These are the people you are looking for. Holmes created the Dream 100 effort to find and close these types of clients. We'll focus specifically on that in section #9.
Another way to target your very best prospects is through Dream Affiliates. These are people or companies who are willing to send your product/service to their database of clients. Under these relationships, you give the affiliate a cut of the revenue, which would otherwise have gone to sales and marketing.
Lastly, the business that doesn't have a referral strategy in place simply isn't going after the low hanging fruit.
7. The Seven Musts of Marketing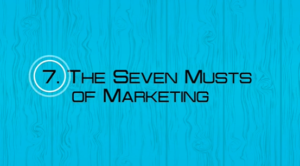 Holmes tells us that there are seven marketing weapons we all need to master in our mix.
Advertising: to do advertising well, it must be distinctive, capture attention with the headline, have body copy that keeps them reading, and include a call-to-action.
Direct (E)mail: even though this has fallen out of favour lately, it still leads to massive results when done well. Your success in this arena is all about the list.
Corporate literature: anything that gets handed out by sales reps should have a consistent look and feel.
Public Relations: getting other people to write about you – whether it's the press or a trade association – is worth its weight in gold.
Personal contact: as Holmes points out, personal contact always has been, and always will be, your most impactful channel.
Market education: if you are going to do trade shows and market education, it has to be bold and exciting.
Internet: mastering selling through your website is a must.
8. The Eyes Have It
When closing the deal requires you to present face-to-face, or through a sales video, there are eight rules to do it right.
K.I.S.S.

(Keep It Simple, Stupid). Your presentation needs to be simple and easy to understand.
K.I.F.P. (Keep It Fast Paced). Don't stick on one point or topic too long. Keep the momentum going throughout.

Use "Wow" Facts and Statistics.

You want your client to learn something they didn't know, which builds credibility for the "sales" part of the presentation.
Build-in Opportunities for Stories. People connect with and remember stories.
Your Presentation Should Be Curiosity Driven. Present the information in a way that keeps your audience curious about what will happen next.

Think of Each Headline as Valuable Real Estate.

Work hard writing headlines they'll remember.
Be Confident but Not Obnoxious. Enough said.

Focus on Them, Not on You.

Remember, there's only one thing on your prospect's mind – themselves. Keep the presentation focused on them.
9. The Nitty Gritty of Getting the Best Buyers
We are back to put some meat on the bones of the Dream 100 effort we introduced earlier.
Here are six simple steps to help you get your dream clients:
Choose Your Dream 100. Look at your top lists of clients and affiliates. This is your starting point.
Choose the Gifts. The core of this strategy is a gifting program where you send them a small gift every two weeks.
Create Your Dream 100 Letters. Every gift should come with a short letter that should tie into the gift in some clever way. Make sure to include a call-to-action in each.
Create Your Dream 100 Calendar. Make sure you put your schedule into a calendar so it never gets missed.
Conduct Dream 100 Follow-up Phone Calls. After every gift and letter should come a phone call, where your goal is to set an appointment.
Present the Executive Briefing. When you do finally get through to the Dream Client, it's your time to present your "Executive Briefing", where you educate them on something they didn't know could impact their business.
10. Sales Skills
As Holmes points out, if you have not identified and mastered every single aspect of the sales process, you are not going to maximise your results.
Here are the seven steps to every sale you need to master. Repeating workshops for each of these steps will go a long way.
Establish Rapport.

Some of the best ways to do this include asking great questions, having a sense of humour, care about your prospects and find common ground.
Qualify the Buyer. Develop a list of 6-10 questions you would like to know about every buyer and ask them religiously to every prospect. You should walk away understanding exactly what they need and how they'll buy it.
Build value. Present your core story or executive briefing.
Create desire. Move your prospects with questions that motivate their desire to solve their pain points.
Overcome objections. An objection is an opportunity to close. Asking them "is (insert objection here) the only thing preventing you from moving forward?" will give you an opportunity to close, or move to the next objection.
Close the sale. Sometimes you need to use a little pressure.
Follow up. Making sure they have a great experience is key in getting future referrals.
Master these basics, and you'll know 95% of what you need in order to become a world-class salesperson.
11. Follow-up and Client Bonding Skills
There are 10 steps to great follow up. Do them in order, every time you close a sale, and you'll build a network that feeds your sales machine forever.
Send the first follow-up letter. Do it within hours of the sale to make the biggest impression.
Make the first follow-up call. Do this right after the letter, and offer something new of value to your customer – further free education is a good choice.

Share something of personal interest.

Bond like crazy.

Share a meal with your customer, throw a party, anything you can to get you closer to them.

Send another follow-up.

Always stay top of mind.

Plan something fun that can include the family.

Take them to see a play or go to a sporting event together.

Offer something to help their business.

Refer your customer to another contact you know can help them. If you are constantly providing value to your customers, they will always take your call.

Follow-up again.

Offer more help to succeed.

Take them to a seminar, or offer to do one at their location.

The ultimate follow-up

– invite them to your home (or be invited to theirs). Top producers almost always have their best clients to their home.
12. All Systems Go
Goal setting and measuring effectiveness is the 12th and final core skill area in building your Ultimate Sales Machine. The power in goal setting is its power to focus your attention. For instance, when you buy a car, all of a sudden you notice the model you bought everywhere, because now you are looking for it. Holmes suggests we do a goal-writing workshop where we write down five-lifetime goals, five annual goals, our desired annual income for the next five years, three things you will do each month to improve your life, three things you will do each month to improve your company or team, and finally, three things you will do each month to improve your personal performance.
Then, track everything.
ActionCLASS happens every month, it is a book club where you don't need to read the book to get the learnings!
Learn the essence of the book in a dynamic format

Share your learnings

Create your action plan

Give & receive feedback

Commit to take action

Enjoy the time you saved
Go to our EVENTS page or follow us on EVENTBRITE for details of the next class.
With thanks to our partners at: