Geoff Fox is a change expert and has helped many organisations to create, deploy and manage the effective delivery of their strategic goals.
Highly experienced in coaching business owners and senior executives, Geoff Fox has led, managed and coached hundreds of people through both large and small change programmes. He also trains others directly in continuous improvement, sales & marketing, business process and operations management. He has an impressive record of successful business growth and transformational leadership in many sectors.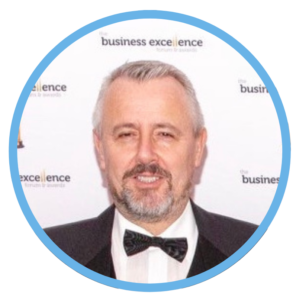 Throughout his professional career, Geoff has:
owned his own businesses;
had a corporate career – employed at director level international businesses like Amey and Fujitsu, accountable for hundreds of millions;
held senior positions as a civil servant in central govt. (MoD) and as a local government officer on the corporate board of a county council (West Berkshire Council);
worked in many roles with a number of SMEs
A business growth specialist and Lean expert he has had a varied career spanning general management, operations, sales, marketing, programme/project management and business improvement. He has a particular interest in continuous improvement and team culture and builds environments where people continuously own and solve their own problems.
Geoff underpins his professional experience with continuous education and formal qualification. He completed a postgraduate Diploma in Lean Operations at Cardiff University after finishing his Master's Degree in Business Administration. He is a certified ActionCOACH, a certified Engage and Grow Coach, a Planning SYSTEMS Coach, an accredited Master Coach and a certified DiSC practitioner.
Geoff is a competitive golfer and lives in Worcestershire with his wife, Karrie-Ann and has three sons. Both Geoff and Karrie-Ann volunteer extensively – coaching children taking up golf (Geoff) and supporting new mothers (Karrie-Ann). They participate in Buy One Give One (B1G1) and Coaching for a Cause, ActionCOACH's global pro bono coaching program that helps non-profits to increase donations and better manage their funds.
Contact Geoff to find out how he can help you with your business:
Get In Touch
How Can We Help You?
Send a message
Contact info
Geoff Fox - ActionCOACH 8 Powick Mills
Old Road,
WR2 4BU,
Worcester